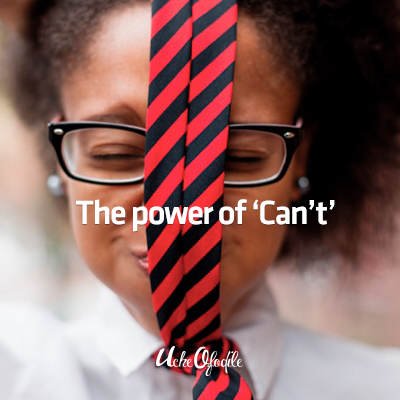 A few years ago I was tasked with rebranding a company in Nigeria. One of the things we wanted to do was to change the brand colours to black and red. "You can't do that", I was told. Black is a colour for mourning and will turn people away from the brand.
What a dilemma!
The word can't can be so powerful. The finality of the word stops businesses and people in their tracks. You've been warned. Do not proceed!
Usually when I am told I can't do something, I want to know why not? Simply because I've learned along the years never to accept the first answer I am given! But more importantly, because there are several ways to achieve a good result and it is never an easy, straight road to a great result.
Well, we did change the company colours to black and red and a year later we won an award for the initiative AND the company posted its best sales performance in over a year. That's the true power of can't. To propel you into action!
I'd love to hear some stories from you as well.
LETS STAY CONNECTED